My Shop (prints & canvasses) :
8, Rue Porte du Mas, 47170 Sos
Open by appointment:
05.53.65.60.36
marcel@photo-marcel.com
You can get my photos online at :
Review - Saal Digital Wall Decoration
---
With the Saal Digital Design Software, you have a complete design studio on your computer. Not only can you design and create a photo book (See my previous review), it also allows you to design pictures, cards, posters, calendars, photo gifts, wall decoration and business products and have them printed.
For this review I got the opportunity to check the wall decoration and there are plenty of materials to choose from: Alu-Dibond, Hard Foam Plate, Acrylic glass, Gallery Prints, Canvas, Picture Box and Alu-Dibond Butler Finish.
My photo 'Fig Jam' has attracted much attention lately, is also sold on canvas once already, and I was very curious how that one would look on Alu-Dibond 30x40cm. And for attaching, while there are three options, I chose the standard hanging system.

Within five minutes the order was placed and the package was delivered within five working days. The package was solidly prepared for his journey; a hardcover cardboard box containing an also hard cardboard envelope comprising a soft foam layer and the Alu-Dibond plate.

"The plate consists of a layer of polyethylene, between two layers of aluminum. In our lab your image is directly printed on the Alu-Dibond plate with our UV-direct printer of the latest generation. This plate is known for its extremely flexural strength, light weight and weather resistance".

The standard hanging system consists of two holders that are easily to be sticked at the back of the plate, and two soft buttons which ensure that also the bottom keeps the right distance from the wall.

I'm not going to test the weather resistancy unless we'll get a leak in the roof ;). but I definitely can endorse it's flexural strength and the light weight. But what impressed me even more, was the color reproduction, the sharpness, dynamic range and, most of all, the atmosphere and ambience of this exceptionally beautiful form of wall decoration.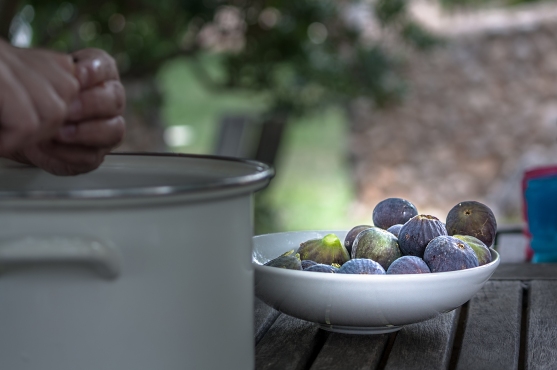 Update on the Saal Digital photo book review: After reading about the warped pages in my review, they immediately took action and sent me a new book. Service with a capital S !
Review - Printing a book with
Saal Digital
---
Being a photography enthusiast, I make dozens, if not hundreds, photos per year. Most of them end up on my computer, some I post on my social media. And in my web shops of course.

After my first year in photography I got the chance of making a photo book. Which meant that I had to look at my photos in a different way. I had to make a choice of not just the photos that were good, they also had to be appealing for potential clients. So I made a selection and created my first book which was seen by a lot of people and had the function of some kind of portfolio. That book was outdated and not representative for my work anymore.

So when Saal-Digital gave me the opportunity to make another book, I already knew what I wanted. When we were eight months in Provence, I made a lot of beautiful photos which deserved to get some extra attention. So I made a selection of the photos I think are the most beautiful ones from that period.

The software.
Saal-Digital has their own Design Software which downloads and installs very fast. The opening screen is quite simple and it's easy to add photos to the book from the left side of the screen. To adjust the mark-up, you can use the tools at the right side of the screen. The software consists of a diverse range of possibilities to add different styles, lay-outs, backgrounds and clip-art, but I chose a simple one photo per page. I was surprised when I discovered that the right mouse button had a lot of functions within this software. Another great feature of the software is that it automatically indicates if the technical quality of the photo is high enough for the print.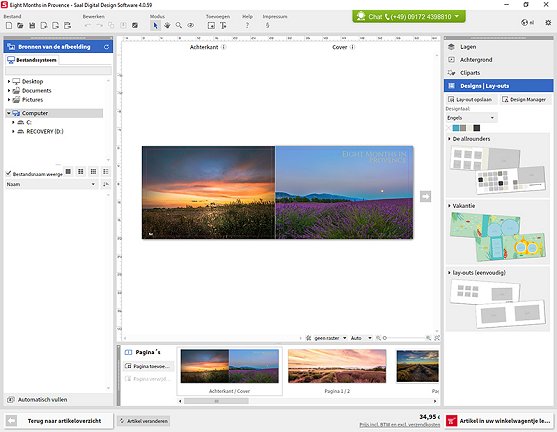 For someone who is used to work with this kind of software, it's probably very easy to work with. I myself needed some time to get to know it's full potential. It gives you almost unlimited possibilities in creating your personal and personalized photo book. And when adding pages or features to your book, the software also automatically calculates the extra costs on screen.

Ordering.
Once I was satisfied with the result, I clicked the order button in the software that took me to a page where I could order the book and have it shipped to the Netherlands, Belgium or Germany. When I sent an email to Saal-Digital to tell them that I was in France, they immediately adjusted the process so orders can now be sent to more countries. Payment is possible through bank transfer, credit card and, very convenient, through PayPal.

Communication.
There is a chat function built in in the software. Which I didn't use. I did email them a couple of times and on working days they responded the very next day. After weekends or holidays they always responded with regrets for the late response because they only work week days. I think you don't need to apologize for that, but it illustrates the way they take communication and service very seriously. Though I myself prefer a more informal way.

The result.
The high-glossy pages look like plasticized and at first sight that appears somewhat cheap. But when going through the book, that also makes that the book has a sense of permanence. The print quality is astonishingly high, razor sharp, up to the smallest details. The colours are beautiful. The pages are slightly warped, I'm going to see if I can cure that by putting a stack of books on it.

In conclusion it has become a beautiful book that I will show regularly and proudly.